NIAGARA-ORLEANS LEAGUE: FIELD HOCKEY
2019 Final Standings

1. Barker, 12-0-0 (Champions)

2. Medina, 8-3-1

3. Akron, 7-4-1

4. Roy-Hart, 6-4-2

5. Wilson, 4-6-2

6. Kenmore/City Honors, 1-11-0

6. Newfane, 1-11-0
Player of the Year:

Congratulations to the 2019 N-O League Player of the Year for Field Hockey:
Sportsmanship Recognition:

Congratulations to the 2019 N-O League Sportsmanship Award Team and Individual for Field Hockey:

Team: Wilson High School
Individual: Anna Meyers
2019 Niagara-Orleans League 1st Team

Congratulations to the eleven members of the 2019-2020 Niagara-Orleans League Field Hockey 1st Team.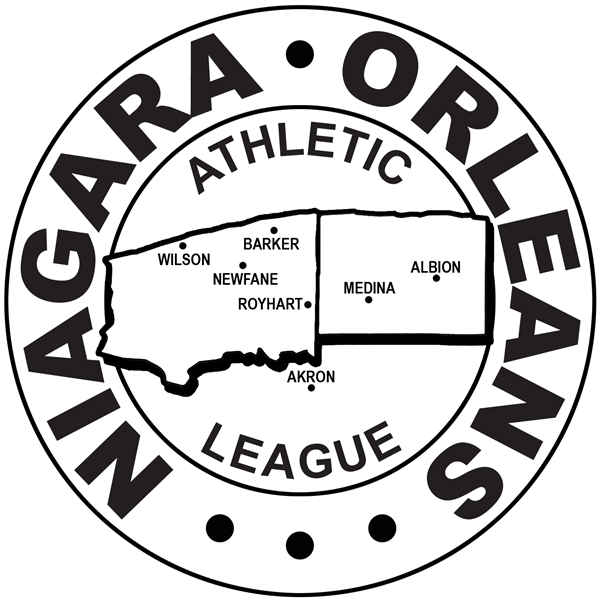 Field Hockey File Library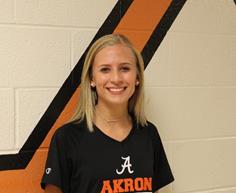 Phone:
Email:
Degrees and Certifications:
Jenelle Kieffer #3

SCHOOL: Akron

GRADE: 10

POSITION: Right Midfield

STATS:

BIO: Jenelle is a first rate athlete who played right midfield for the Lady Tigers. Jenelle is noted for her aggressive attack on the ball, her blistering shots on corners as our hitter, and her unrelenting endurance. She was never substituted out of a game. She plays the full 100 yards length of the field. She was able to support our offense at the top of the circle as well as keep the opponent she was marking from scoring. She is the best player on our team in terms of distributing the ball. She can carry it when appropriate or find an appropriate pass to dish it. She has great horizontal movement as well as advanced stickwork. She instinctively knows when to channel and or block to double team an opponent. Jenelle is very coachable as demonstrated in her adjustments on the field each game. Jenelle is a "gamer" to be sure. Only a sophomore, Jenelle is the "spirit stick" of our team. Her enthusiasm and support for her teammates is an essential element of the glue that keeps us looking forward to each practice and game. Her maturity and compassion have been instrumental in dealing with the youth factor of our team. The prospect of coaching Jenelle another two years just makes my soul smile. I can't wait to witness the additional contributions she will make to the field hockey program at Akron.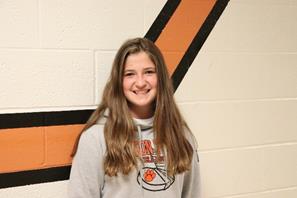 Phone:
Email:
Degrees and Certifications:
Emerson Polkowski #7

SCHOOL: Akron

GRADE: 10

POSITION: Left Back

STATS:

BIO: Sophomore Emerson Polkowski has been selected as one of Akron's First Team N-O honorees based on her extraordinary defensive play at left halfback on the varsity field hockey team. As impressive as our team's offensive statistics were in that we scored a total of 49 goals in league play, the defense was not to be outdone! The defensive wall proved basically impenetrable as the defense kept the goals against Akron to a mere 9! Emerson's contributions were a huge factor in that accomplishment. Emerson's defensive capabilities were really put to the test in our last 3 league games as we faced Barker, Roy-Hart, and Medina. Emerson was given the task to mark the top forwards from these very strong teams. Yes, Akron was defeated in two of those games, but only a total of one goal was scored against us in 180 minutes of regulation play! Emerson proved to be a force as veteran, senior elite players she marked were basically shut out of the games. Emerson was able to limit the contributions of her opposing impact players by employing a variety of advanced tackling skills and by utilizing her speed and endurance. Emerson's off ball play was extraordinary. She had a keen sense of tackling back behind the sweeper to supply an emergency line of defense so to speak. She was the trail on all the corners and was very effective in intercepting passes and blocking shots.

"Emerson has certainly set the stage for earning the reputation as a defensive wall to be avoided – even as a sophomore. She has emerged as a team leader amongst a very young team. I will certainly rely on her leadership skills as well as her impressive field hockey talent in the years to come," state Akron Head Coach Mary Borden.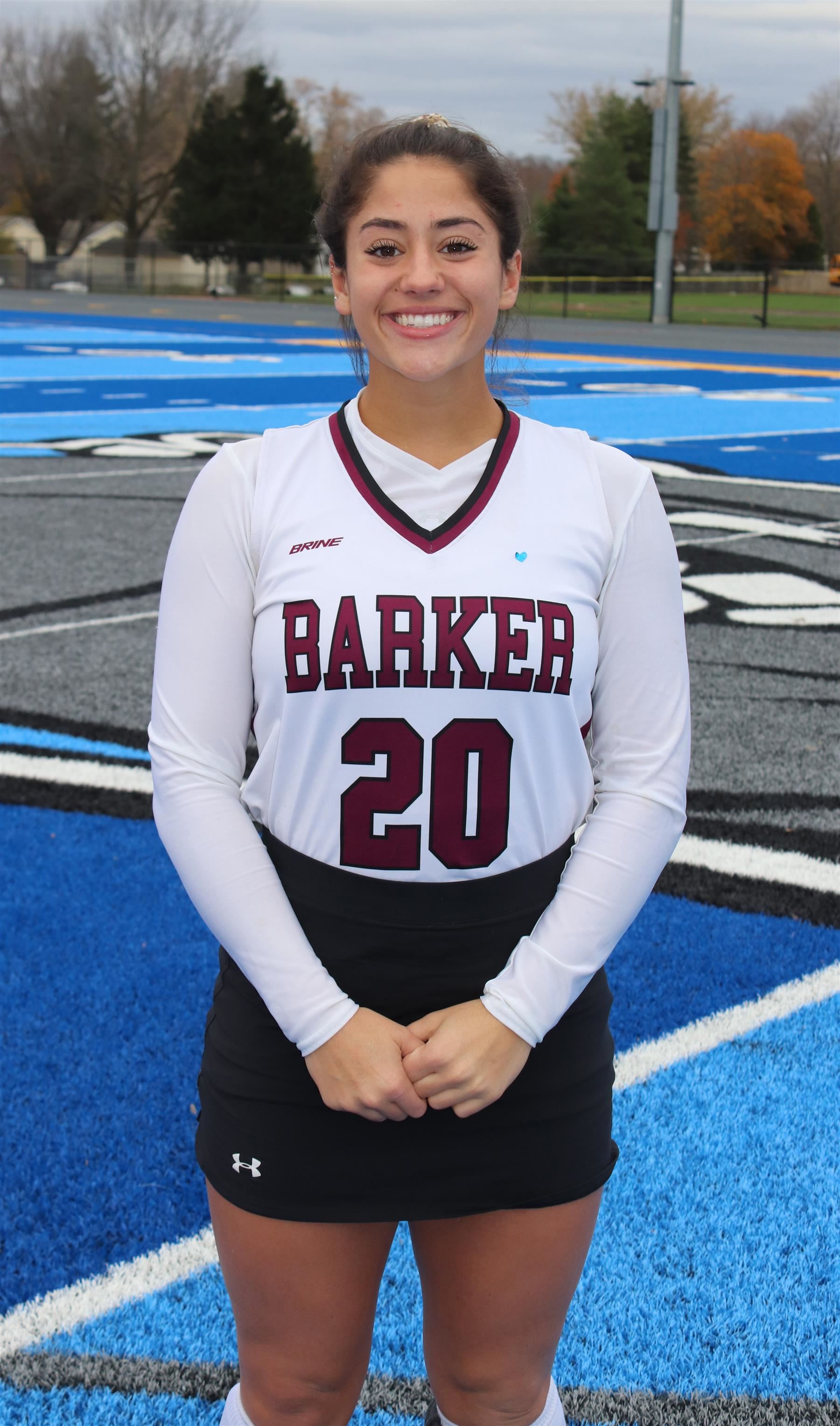 Phone:
Email:
Degrees and Certifications:
Katrina Clare #20

SCHOOL: Barker

GRADE: 12

POSITION: Attack

STATS:

BIO: Katrina Clare has a passion for the game of field hockey. She has taken the initiative to build her skills in and out of the field hockey season to better herself and her contributions to her team. She has been a member of the Barker Field Hockey program since 7th grade and has been on Varsity for 5 seasons. Katrina received All League Honorable Mention recognition as a freshman and was a 1st Team selection as a sophomore and junior. She was also a 1st Team All WNY selection in 2017 and 2018. She has been a co-captain the past 2 seasons. In 2019 Katrina led our team with 16 assists (13 in Niagara-Orleans League play, 1 in nonleague play and 2 more in the Section VI Class C Quarter Finals) and was our second leading goal scorer 14 goals (9 league, 2 nonleague and 3 in postseason through the quarter finals). A breakdown of goals and assists this season shows that she scored against each of the 6 N-O League opponents and was notched a goal or an assist in 10 of the 12 N-O League games this season. She had 3 league games where she scored the eventual game winner and also another game winning goal in nonleague play. After a huge 2018 where she was predominantly a goal scorer (30 goals & 5 assists through the NYSPHSAA State Semi Finals of which 16 goals came during N-O League play), Clare was more of a playmaker in 2019. There was no secret of who she was this season as #20 was marked closely as teams tried to neutralize her as a goal scorer this season. Katrina was involved in most of our scoring plays even if she didn't register an assist or score the goal. Whether it was getting a touch on the ball to start a transition, sending a cross into the circle or eliminating defenders and giving up the ball to a teammate who scored, she was a factor. She is involved in all of our specialty situations – Katrina is a hitter on our offensive corners, is involved in overtime 7 v. 7 and shootouts and is one of top 3 penalty strokers. On defensive corners she will fly or trail and will send out a strong cleared ball from the circle. Her versatility allows us to use her as both wing and inner on attack and has also been used as a midfielder when we need to make adjustments on how other teams try to negate her impact on a game. She has also played on both the right and left sides of the field and does a great job recognizing when she needs to make her own adjustments on the field. She can recognize situations and knows how to counter the way she is defended. She carries the load for our team and demands the best from herself and her team. Katrina continues to be a strong and positive voice in the huddle and leads her team both on and off the field. As a member of the WNY Whalers and USA Field Hockey Futures it is evident that she is committed to field hockey, plays year round and is driven to play in college. She plans to attend Geneseo next fall.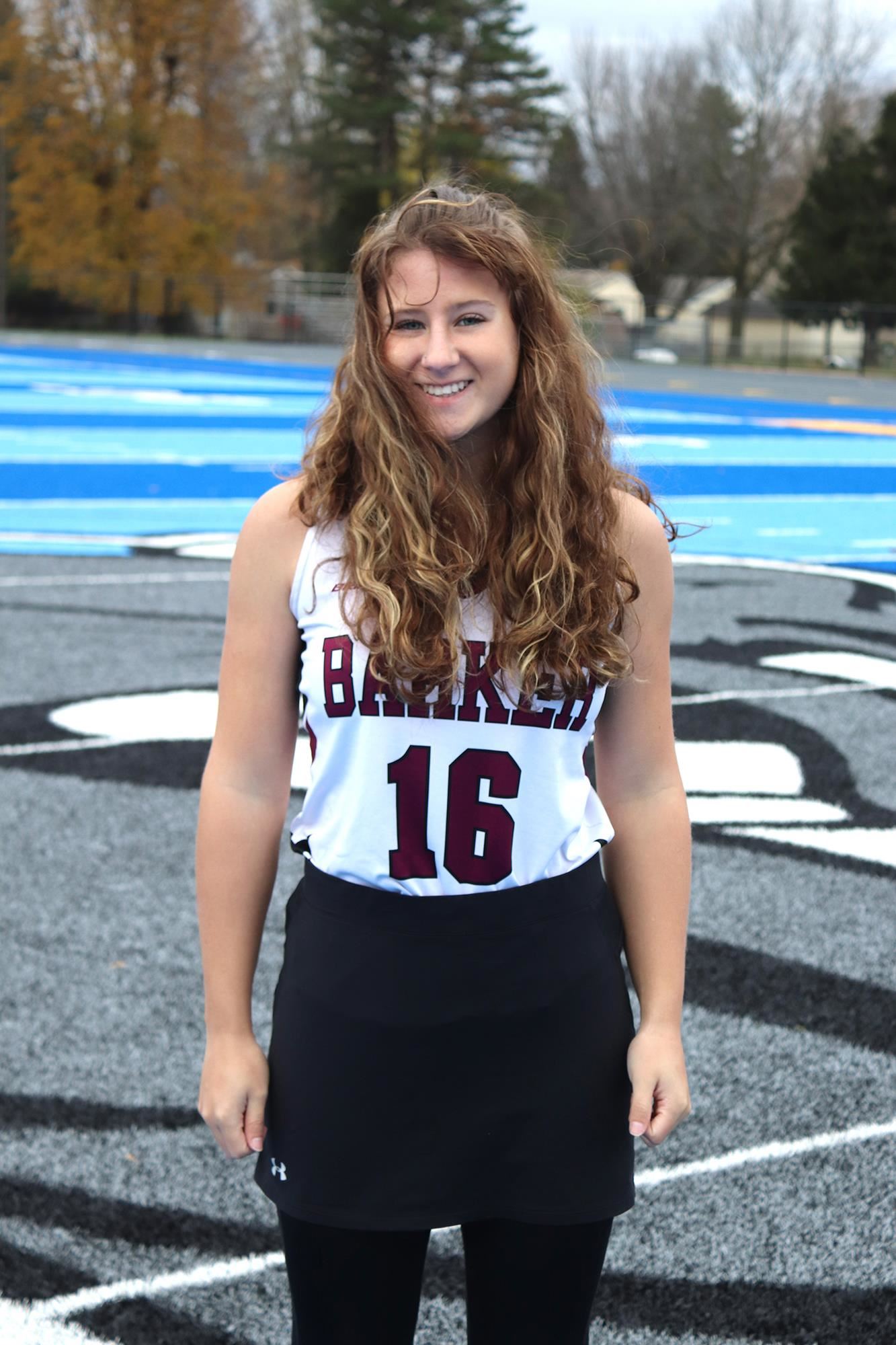 Phone:
Email:
Degrees and Certifications:
Madison Gancasz #16

SCHOOL: Barker

GRADE: 11

POSITION: Center Midfielder

STATS:

BIO: Madison Gancasz has determination and endurance that have allowed her field hockey play to stand out among others. Her knowledge and skillful play have contributed to the success of her team. Madison Gancasz has played field hockey since 7th grade and has been on Varsity since her freshman year. She was an Honorable Mention selection in 2017 and 1st team selection in 2018. Madie has played our center mid position for the past 2 seasons and has done an exceptional job using her speed, quickness and power. She plays low to the ground and defends well for us. She was credited with 2 defensive saves this season in a nonleague contest against Clarence. She has contributed 2 goals and 2 assists in N-O League play (4 and 4 overall). She is our #1 inserter on penalty corners and is on each of our specialty units: 7 v. 7 OT, shootouts, and she is our most consistent penalty stroker. Defensively, she is always back on corners. Madie has really elevated her level of play this year, coming off a 2018 season where she was an All WNY 2nd team selection. Her decision making, jumping up into the attack and her open field jabs and block tackling have made her one of the best midfielders in the league.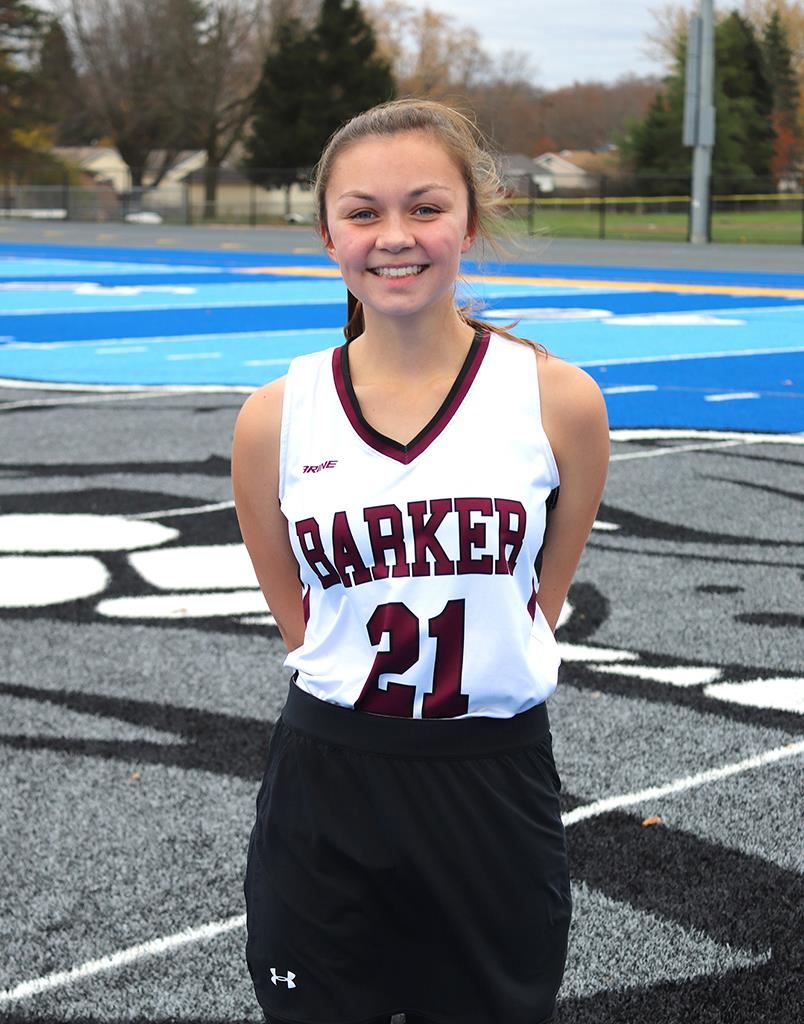 Phone:
Email:
Degrees and Certifications:
Ciara Gregoire #21

SCHOOL: Barker

GRADE: 12

POSITION: Attack

STATS: Led league in goals scored with 14 and had 2 assists.

BIO: Ciara Gregoire has been a valuable attack player that creates opportunities for her team. Her responsiveness to play making has also led to successful scoring. Ciara Gregoire has been one of our captains the past 2 seasons. She has been in the Barker Field Hockey program since 7th grade. A Varsity player since 2015 as an 8th grader, she is a leader for our team. A Niagara-Orleans League 2nd Team player as a sophomore, and a 1st teamer as a junior Gregoire finished the 2018 league season 5 goals and 4 assists. In 2019 she made a huge jump to lead the N-O League with 14 goals (15 total through the Section VI Class C Quarter Finals). Gregoire also added 2 assists during league play. Ciara is on our 7 v. 7 OT team, a shootout player and is also a key member of our corner unit on both defense and attack. Her goal scoring this season was noticeable not only by the totals she tallied, but also the timeliness of her scoring as she got us on the scoreboard first in 6 of our 12 league games and netted 7 goals that were the game winners, one of which was an OT goal at Medina in the season opener.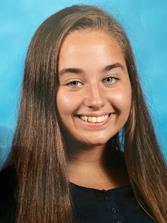 Phone:
Email:
Degrees and Certifications:
Jessica Botham #1

SCHOOL: Kenmore/City Honors

GRADE: 12

POSITION: Forward

STATS:

BIO: Jessica "Ducky" Botham is a junior at Kenmore West High School and is the starting center forward for the Kenmore/City Honors Varsity Field Hockey team. Botham has been on the varsity team for 3 seasons, this season alone she has 4 goals and 5 assists for a total of 7 goals and 8 assists for her career. Botham is a leader on and off the field, she is a starter and a captain. Botham works hard on and off the field and in the classroom.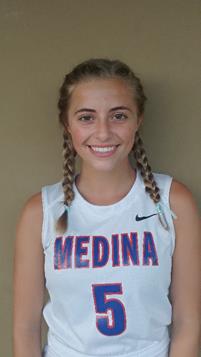 Phone:
Email:
Degrees and Certifications:
Mary Flores #5

SCHOOL: Medina

GRADE: 12

POSITION: Midfield

STATS:

BIO: Mary Flores has been an integral part of Medina's field hockey team for six years. She has played center midfield and is the key component of transitioning between the offense and defense of the team. Offensively she has scored 5 goals and added 5 assists this year. She is one of the main players on both offense and defensive corners.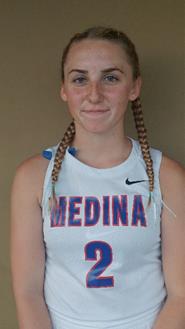 Phone:
Email:
Degrees and Certifications:
Lacey Kenward #2

SCHOOL: Medina

GRADE: 12

POSITION: Forward

STATS:

BIO: Lacey Kenward is a senior who has been a member of the varsity field hockey team for Medina since 8th grade. In the past four seasons Lacey has played left midfield and started every game since the eighth grade. This year, due to graduation losses, she was moved into the forward position on the right side of the field. She became the major ball carrier for our team. With her years of experience in the midfield, often playing against the opposing team's strongest offensive players, she has developed into a force on the field. Switching positions was welcomed by her. She adjusted to the change of side as well as expectations. By doing so, Lacey became our team leading scorer with 14 goals and 4 assists combining into 32 points this season. Her offensive presence has been seen in every game throughout the season. She has tallied at least one goal in every game for Medina this year. As a result, she has successfully scored in every game for Medina in the N-O league this year. Her strong, fast, and hard shot can be seen by most players on the field. She does not hesitate to take opportunities in the circle both on her strong stick side or on non-stick with a reverse shot. Lacey is also the main shooter on corners. She takes the direct shot, as well as sets up other players in opportunities. In the defensive corners, she has been a figure for several years as one of the main defenders. Every day Lacey gives 110% at practice. She truly is a coach's dream. She works hard in season as well as in the off-season. She can be found playing in the winter epic leagues, summer leagues, and any open gym/field opportunities that are available. It really shows how skilled she has become at field hockey over the years. I believe as one of the top players in our league, she holds up to the expectations as her coach, as well as the opposing coaches. Lacey's success this season, has been a direct correlation to her years of hard work. She has been on the teams that Medina had less than favorable outcomes. Her commitment has helped elevate Medina's level of play over the last few years. She single-handedly helps develop teammates, encourages them and even assists them in learning new skills, all while keeping a humble mind about her. As the speaking captain, she knows what her cohorts need to be successful, encourages them to do so, and leads by example.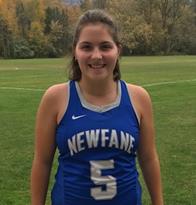 Phone:
Email:
Degrees and Certifications:
Madison Klumpp #5

SCHOOL: Newfane

GRADE: 12

POSITION: Defense

STATS:

BIO: It is with enthusiasm we recommend Madison Klumpp for first team All-League. Madison has been a part of Newfane's field hockey team for the past 5 years. She has been a major contributor to our field hockey team and is a strong defender. She is team captain and an outstanding leader and communicator on and off the field. Her team work makes her an exceptional candidate for this honor.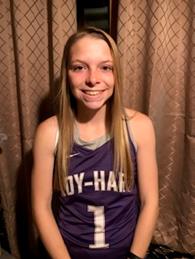 Phone:
Email:
Degrees and Certifications:
Samantha Choate #1

SCHOOL: Roy-Hart

GRADE: 12

POSITION: Center Midfield

STATS:

BIO: Samantha Choate is a 5 year Varsity Starter. She was pulled up in 8th grade when her athletic ability was evident at the JV level. Sam has been playing mid field for the Rams for 5 years with the last 2-3 years focusing on the center mid position. Sam leads our team in points this year - most of them coming from her assists. Sam is a team player who is always looking to set up her teammates for scoring opportunities. She can read the field,the defense and help her teammates power forward. Sam is quick and strong. She focuses most of her game on her strong passes and her quick stick skills. Sam uses her speed in almost every situation. She has been our key corner striker which has resulted in multiple goals and several assists this season. Sam has been captain for the past 2 seasons and takes that leadership role seriously on and off the field. Sam has such passion for the game and the sport. She has dedicated most of her high career playing on travel teams and practicing countless hours on her own. Sam is planning on attending college for Physical Education and she plans on playing the sport she loves the most! She has been a top athlete in the NO Field Hockey league for over 4 years now - she is a senior and has led her team the last 3 years to the sectional semi- finals. She is strong, competitive and has committed herself to field hockey for her entire high school career and is hoping to continue that in college.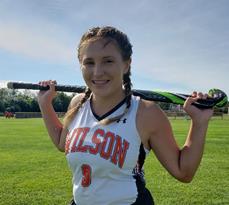 Phone:
Email:
Degrees and Certifications:
Emilee Muoio #9

SCHOOL: Wilson

GRADE: 12

POSITION: Defense

STATS:

BIO: Emilee is someone who has been valuable to our team in many capacities. She has been a player who has won with grace and lost with pride. She plays with a lot of grit and determination. Often a very thoughtful and outgoing person, who has put field hockey in her heart to be the best player, teammate and leader that she can be on and off the field. Emilee earned 7 goals and 5 assists for the team this season, while on defense. She was our key player on both offensive and defensive penalty corners. She was a captain this year and lead her team by example.
All League Selections:

Congratulations to the 2019 N-O League selections for 1st Team, 2nd Team and Honorable Mention for Field Hockey.
| Season | Player | School | Year | Position | Recognition |
| --- | --- | --- | --- | --- | --- |
| 2019-2020 | Jenelle Kieffer | Akron | 10 | Midfield | Niagara-Orleans League 1st Team |
| 2019-2020 | Emerson Polkowski | Akron | 10 | Halfback | Niagara-Orleans League 1st Team |
| 2019-2020 | Ciara Gregoire | Barker | 12 | Attack | Niagara-Orleans League 1st Team |
| 2019-2020 | Katrina Clare | Barker | 12 | Attack | Niagara-Orleans League 1st Team |
| 2019-2020 | Madison Gancasz | Barker | 11 | Midfield | Niagara-Orleans League 1st Team |
| 2019-2020 | Jessica Botham | Kenmore/City Honors | 11 | Forward | Niagara-Orleans League 1st Team |
| 2019-2020 | Lacey Kenward | Medina | 12 | Forward | Niagara-Orleans League 1st Team |
| 2019-2020 | Mary Flores | Medina | 12 | Midfield | Niagara-Orleans League 1st Team |
| 2019-2020 | Madison Klumpp | Newfane | 12 | Defense | Niagara-Orleans League 1st Team |
| 2019-2020 | Samantha Choate | Roy-Hart | 12 | Midfield | Niagara-Orleans League 1st Team |
| 2019-2020 | Emilee Mouio | Wilson | 12 | Defense | Niagara-Orleans League 1st Team |
| 2019-2020 | Alexandria Roland | Akron | 10 | Defense | Niagara-Orleans League 2nd Team |
| 2019-2020 | Lydia Blueye | Akron | 11 | Defense | Niagara-Orleans League 2nd Team |
| 2019-2020 | Rachel Hurtgam | Barker | 12 | Attack | Niagara-Orleans League 2nd Team |
| 2019-2020 | Lena Fazzolari | Barker | 11 | Midfield | Niagara-Orleans League 2nd Team |
| 2019-2020 | Ella Fox | Barker | 12 | Defense | Niagara-Orleans League 2nd Team |
| 2019-2020 | Isabella DiGesaire | Kenmore/City Honors | 12 | Defense | Niagara-Orleans League 2nd Team |
| 2019-2020 | Abi Neuman | Medina | 12 | Defense | Niagara-Orleans League 2nd Team |
| 2019-2020 | Grace Cook | Medina | 12 | Midfield | Niagara-Orleans League 2nd Team |
| 2019-2020 | Ryleigh McCoy | Newfane | 12 | Goalkeeper | Niagara-Orleans League 2nd Team |
| 2019-2020 | Abigail Ander | Roy-Hart | 12 | Midfield | Niagara-Orleans League 2nd Team |
| 2019-2020 | Sierra Shepherd | Wilson | 12 | Goalkeeper | Niagara-Orleans League 2nd Team |
| 2019-2020 | Madison Brege | Akron | 9 | Offense | Niagara-Orleans League Honorable Mention |
| 2019-2020 | Sophia Jones | Akron | 9 | Offense | Niagara-Orleans League Honorable Mention |
| 2019-2020 | Kaedynce Schumacher | Barker | 10 | Midfield | Niagara-Orleans League Honorable Mention |
Last Modified on August 11, 2020